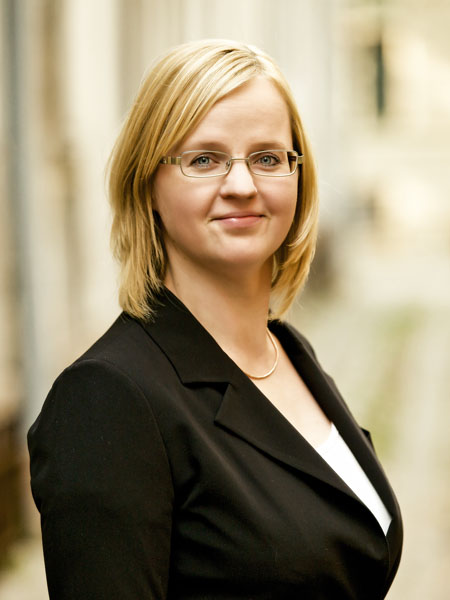 Kristine Dubane, Head of Residential Space at Ober Haus Real Estate
By the number of employees and the number of transactions conducted, Ober Haus Real Estate has been confidently among the top three real estate agencies for many years. We feel and analyze not only statistics, but also actively communicating with buyers and sellers. Let me share some feelings about the market.
Serial or Soviet Standard housing in Riga
In the mood of the real estate market in the first half of 2018, there were positive notes. This was especially evident in transactions with the standard housing of the capital - these are the most purchased real estate objects in the whole country. In 2018, a serial 2-rooms apartment in a normal condition costs significantly more than 40,000 euros. At the same time buyers are basically ready to pay this amount. Prices are going up. 1-room serial apartment in good condition for 25 000 euros is possible, perhaps, only in Vecmilgravis.
New projects
Brand new residential buildings in Riga are being built more and more: the field of supply is rapidly expanding. And if we evaluate the prospects in the long term, let's say for the next five years, then the possible growth seems too fast. There are some doubts that demand will cover the entire amount of brand new housing. A lot of projects have been started or are preparing to start in the Quiet center of the capital of Latvia. When we calculate the number of declared apartments in these projects and compare with how much were sold in recent years at prices ranging from 3,000 euros per square m2 and more, we want to hope that all new apartments will find their owners, but we are not so sure.
Clients with whom the Ober Haus worked during last six months have rather tough price position: they normally perceive offers in the center of Riga with a price of up to 2,500 euro per m2. The reaction of foreigners to the price lists from 4 000-5 000 euros per m2: for such money we can buy much more liquid real estate in the cities of Europe or the USA.
Centre of Riga
There are buyers' interest for good apartments in the center of Riga, but we see a kind of misunderstandings between buyers and sellers concerning to price issue. Owners often evaluate the quality of their objects overestimated and do not take into account other available market offers. In some places, for example, on the street. Cr. Valdemara, there is an oversupply of objects for sale. It is especially difficult to sell flats whose windows face to Kr. Valdemara street, what is one of the central highways of the capital. Obligatory claim for the center is the opportunity to resolve the issue with parking. In brand new complexes where some parking is provided, underground parking place is sold close to 30,000 euros.
The recent innovation of the market of the center is more wide supply of short-term (3-6 months) apartment rentals. Till now owners of the apartments didn't want to sign there kind of contracts.
Jurmala
According to the experts of Ober Haus, the real estate market of the main resort of Latvia is reviving step bt step. Local customers are constantly looking for acceptable variants of different real estate for themselves. If this is an apartment for purchase, then in four out of five cases, the transaction budget does not exceed 100,000 euros - this is the May statistics. In 13% of sales the cost of the purchased apartment was in scope from 100 000 to 200 000 euros. For Jurmala housing in brand new buildings they ask about 200 000 euros, what is about 2 100 euros per m2.
Good demand this year brings for the summer rental of apartments in new buildings. In the center of Jurmala for a two or three bedrooms apartment, close to the sea, they ask for up to 4,000 euros a month, so the price list starts from 900 euros per month. Just to compare, for the whole year renting the same sort of apartments will be available for 650-2 500 euros per month.
The geography of search for plots and private houses in Jurmala expands and begins to include some not-central districts of Jurmala: Vaivari, Sloku and Kauguri. Prices are more modest here, comparing to the space from Lielupe to Dubulti, although stressful estates still exist. Areas on the riverside are for 25 000-30 000 euros. On the maritime budget is higher, but rarely when more than twice.
Private houses in Jurmala customers are ready to buy if the objects were constructed in the last 15 years and the prices are 100 000 - 200 000 euros. Note the fact: only half of Ober-Haus clients for the transaction attracts some mortgage lending, the other half has their own money.
Regions of Latvia
Ober Haus operates in six regional centers in Latvia. So the most turbulent and amazing market is now observed in Valmiera - there are almost Riga prices. 4-room serial apartment in Valmiera costs 55-60 000 euros. This is due to the lack of supply, and the fact that the city has many industrial enterprises and. In the result, there are good job offers in Valmiera. To solve the problem of housing shortage, Valmiera's local government even built municipal housing, which is rented through auctions – the demand is too high.
The active movement of buyers is observed in Jelgava also, which for a long time was one of the cheapest places of residence close to the capital. Customers this year ask Ober-Haus specialists to find them and apartments, and private homes, and there is a steady trend to increase the prices of the available offer.
Liepaja demonstrates stability - about a hundred deals every month. Part of the demand in it is formed by Lithuanians and Byelorussians who buy inexpensive apartments. These kind of apartments are bought for renting in the summer, and for own living during vacation.
Ventspils is doing well. But in Daugavpils and Rezekne - a little more difficult. There you can buy an apartments for 7 000-10 000 euros. At the same time in Valka (place on the Estonian border) five or seven years ago it was impossible to sell anything, but now life is returning to this town. In general, the outlook for the entire Latvian real estate market is positive.