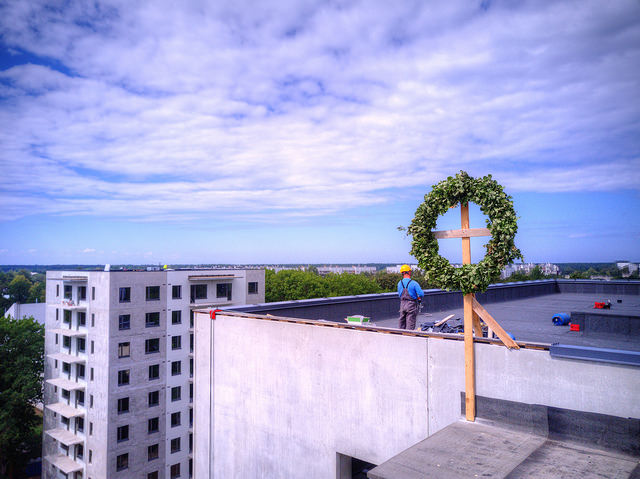 The new Riga's project "Akācijas" completes the major construction works and celebrates the Festival of Roof Framing, or as they call it Spāru svētki. The complex is located in Imanta in Riga and consists of four residential houses of economy class, each of which has 54 apartments. The buildings are planned to be commissioned by the end of 2018.
The volume of the new multi-apartment project "Akācijas" is 13,000 m². In four nine-storey houses will accommodate 216 apartments for different groups of residents — with one, two and three bedrooms - from 40 to 78 m². The apartments will be fully furnished and equipped with all the modern conveniences needed for both young professionals and families with children. In the courtyard of the complex, there is a parking lot and a children's playground. Prices for apartments in the project from 1600 EUR / m².
Andris Dzirnieks, Sales Manager of the developer — KBO Ltd: "We have good demand on apartments of "Akācijas". The trend is families are evaluating not only location of housing, but also materials used in construction. The project Akācijas uses high-quality materials that will provide excellent sound insulation and thermal insulation. In addition, air recuperation systems are being built that will save energy by heating the incoming air during the cold period and by cooling the air during the warm season. This will make the apartments even more energy efficient. "
The developer KBO Ltd presents real estate projects of the Finnish corporation Insinōōritaimisto Bertel Ekengren Oy in Latvia.